Eruption
by
Ivy Smoak
My rating:
5 of 5 stars
FIVE heart-in-your-throat STARS! I absolutely loved this book! Ivy does such a great job at keeping the reader suspicious and unsure. Maybe I'm a lot like Penny myself and that's why I feel like I understand so easily how she feels. Gah!!! But anyway, to the review!
The beginning of Eruption takes us two years ahead from the end of the previous book to the planning of Penny and James's wedding. Some time is spent with the goings on of wedding planning, looking to move into a new home, Penny graduating, and some light friend drama. Everything seems to be going well. We get to see James more open and almost playful with Penny. As an alpha-male, he still wields quite a bit of control though, wanting her to work in his company, buying a home for Penny without her input, etc. Penny takes it all in stride and is always looking at the thoughtfulness and reasons of practicality, rather than pushing for even ground and more of a voice in the relationship. She has always felt that James was too good for her, too good to be true. Although she does not doubt his love, that feeling of inferiority has never left the back of her mind.
Issues begin to arise like a low simmer as Penny pushes to find a way to meet James's parents. They always find a way to allude her. It becomes clear one night that they want Isabella (James's ex) and James to reconcile and just want Penny to disappear. There's a lot of blatant nastiness going on there!
As the story progresses, seeds of doubt once again begin to grow. There is no way to guess which way things will turn out as new revelations and utterly shocking moments occur! Holy shit moments! WTF moments! Penny continues to brush things off to keep stress from James and try to deal with all the craziness that Isabella throws at her. She tries to be strong and push through to the wedding. She will not let Isabella come between them.
As Isabella's scheming unfolds, more and more uncertainty and insecurity plagues Penny, and that low simmer of trouble evolves into a rolling boil! It all becomes too much to deal with under pressure. In an act of desperation to protect James, Penny makes a judgment call that could be the beginning of the end. Will Penny fall apart? What about Penny's support system and the health of her relationship with her friends? How far will Isabella take matters into her own hands? To what length will she go to tear them apart? What does this all mean for Penny and James?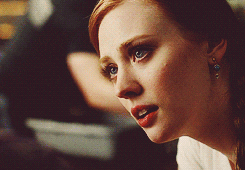 I seem to read Ivy's books faster than any others. She always has me on the edge of my seat and my heart in my throat. Her characters are so well fleshed out and easily empathized with that I just can't put it down. I could find myself extremely anxious and distressed right along with Penny as all kinds of trouble piles on her. She was truly alone in her turmoil. I have to know what happens to them!
The end of Eruption left me hanging by a thread! This upgrades me officially to "stalker phase" as we await the book to follow!
I highly recommend this series! The Hunted series is a highly emotional, turmoil filled, couple-against-the-odds love story that should not be missed!
View all my reviews